What Is heat Transfer Vinyl?
I believe that Many users using heat transfer vinyl,But what is it? I think many people don't go to the deep understanding.Now,Let me-Jodie discuss with you that the nature and process characteristics of heat transfer vinyl.

T-shirt heat transfer vinyl
Heat transfer vinyl is a meterial for custom garment printing a profitable reality. it can use with any cutter and apply with a heat press.
it has two kinds: cuttable material and prinatble one. it can heat application on any fabric. Whether you're decorating cotton t-shirts, nylon jackets or performance wear for corporate, sports or fashion.
and you also no need to worry about the color, we have many colors for choosing. such as, white, black, red, blue, green, yellow, purple, golden, silver , neon colors etc.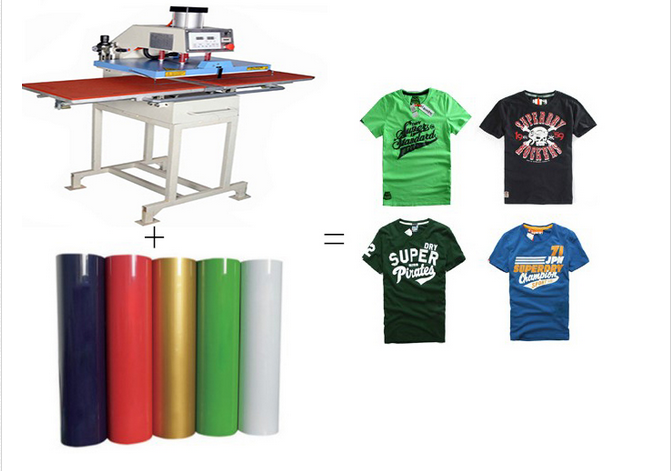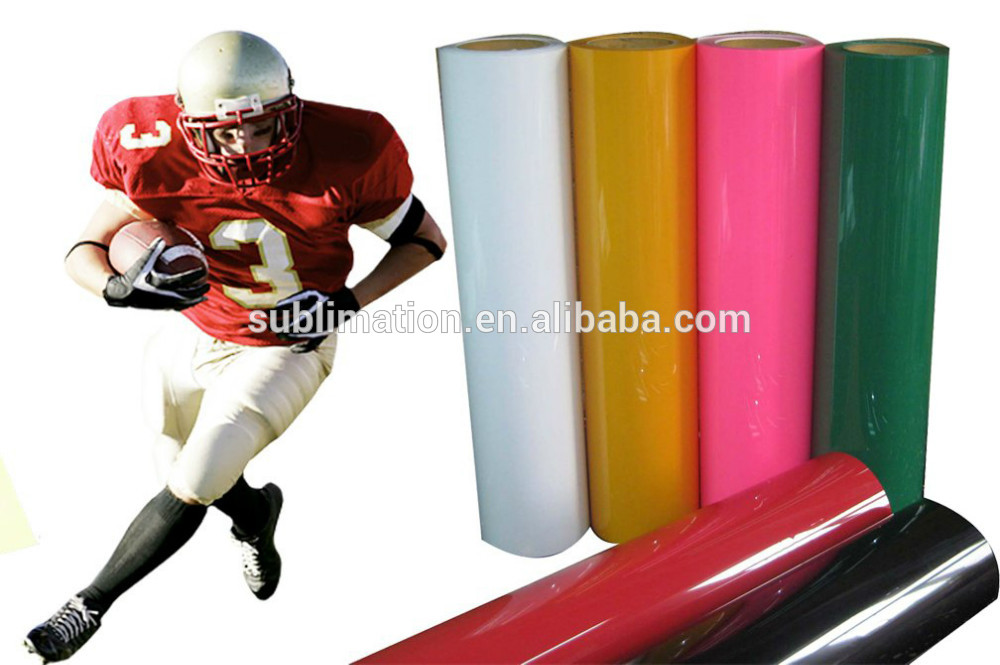 Heat Transfer vinyl is a dielectric material at heat transfer technology. Heat Process Technology is the process of one-time pressurized and heating,The image of heat transfer vinyl will transfer on the surface of clothing.
In the Process of heat transfer, It is using a combination of pressure and heating makes the protective layer and pattern layer separation from polyester substrate,Hot melt adhesive to make the pattern layer and substrate permanent agglutination.

Heat transfer vinyl have unique properties,In order to to get the ideal effect of clothing,We must be strictly grasp the best temperature,pressure and time.Next is the parameter of some material of heat transfer vinyl have a reference.
TYPE

PVC

PU

Flock

Laser vinyl

Glitter

Metallic

Size

50cm*25m

50cm*25m

50cm*25m

48cm*100m

50cm*25m

48cm*100m

Thickness

0.2mm

0.19mm

0.417mm

0.234mm

0.42mm

0.229mm

Dimension

54*20*20cm

53*13*13cm

54*20*20cm

54*20*20cm

53*13*13cm

52*12*12cm

N.W.

5

4 KG

6 KG

16KG

6.5 KG

16 KG

G.W.

5.5 KG

4.5 KG

6.5 KG

16.5KG

7 KG

16.5KG

Packing

2 rolls per carton

2 rolls per carton

2 rolls per carton

1 roll per carton

2 rolls per carton

1 roll per carton

Instruction

Temp

165°C

155°C

170°C

145°C

155°C

165°C

Time

10~15 sec

10~15 sec

10~15 sec

5~10 sec

10~15 sec

10~15 sec

Pressure

35~40 psi

30~35 psi

35~40 psi

30 psi

35~40 psi

35~40 psi