Our company is the gerenal Agent for Korean inktec sublimation ink, Epson ink, Italy J-Teck, J-Next ink,

Manoukian, Kiian ink.


Our company is the manufacturer for our own brand ink: INKTOP Sublimation ink.




Next is sublimation ink brands:


Inktec:





1.Printing smoothly.
2.Image colors are vivid and bright.
3. High stability and never clog the printing head.
4.Water fastness and light fastness reach 4 to 5 classes.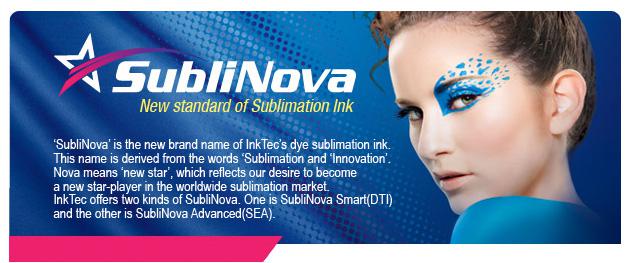 What is the specification of inktec sublimation ink?
1.item: Inktec sublimation ink
2.bottle: 100ml , 1000ml
3.appliance : eco-solvet t-shirt, advertising
4.used with sublimation paper, heat transfer paper
5.equipment : sublimation printer
6.Weight: 10bottles/box, 14kg
7.Dimension: 40*32*28cm
8. equipment : heat transfer machine / to transfer logo onto sublimation blanks
9. Temp. range : 0~ 200 degree (depends on different items)
10.Colors: C / M / Y / K / LC / LM

Applications:
- Printing on polyester and polyammid (lycra, nylon) fabrics used in sportswear and outer wear in general
- Printing on mixed synthetic fabrics ( min. 60% of synthetic fibres) used in sportswear and outer wear in general
- Printing on plastic substrates used in the manufacturing of sport equipment such as skis, snowboards, skateboards, windsurfs etc.
- Printing on every substrates (wood, ceramics, glass) overprinted with polyester-based or polyammid-based coatings