InkTec SES Sublinova Sure sublimation ink

GENERAL INFORMATION
InkTec has been providing high quality dye sublimation inks for many years based on our own dispersed technology.
InkTec dye sublimation inks provide high intensity colours because the particles are spread evenly.
To produce InkTec dye sublimation inks, we evaluate the key factors of ink - durability, colour and light fastness-by using hi- tech methods.

TRANSFER CONDITION
SubliNova transfer time can vary from 30 ~ 60 sec.
at 180 ℃ ~ 210 ℃ depending on the type of substrate.

SUBLINOVA SURE
SubliNova Sure is based on a high black and colour density ink formula to be efficient with low production costs.
SubliNova Sure shows optimal printing stability and long lasting head performance and is foumulated to be compatible
with Epson TFP head. Moreover, it maintains the quality under the high speed option(360*720dpi, 1pass, 58.9m2/h) of Epson SC-F7280.

BLACK AND COLOUR OPTICAL DENSITY
The colour concentration of SubliNova Sure is high with vivid colour and its optical density is
much higher than original inks. The higher the figures, the deeper the optical density.

ECO FRIENDLY
SubliNova Sure is an environmentally friendly product using only high-class dyes and its excellent quality has been proved by an international testing agency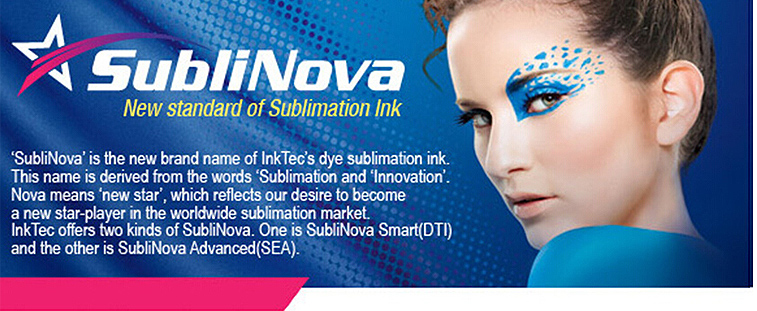 SPECIFICATIONS
| | |
| --- | --- |
| size | 1000ml/bottle for InkTec SES sublimation ink |
| color | C,M,Y,K |
| used | sublimation printing, textile printing |
| weight | 10bottles/box, 13kg |
| Dimensions | 47*27*23cm |
| place of production | korea |


PRIMARY FEATURES

1. Suitable for the plotters equipped with epson TFP printhead
2. Wider colour gamut than original inks
3. High colour concentration with vivid colour
4. Superior print quality and stability at high speed mode
5. Environmentally friendly Free from formaldehyde, VOCs
and compliance with RoHS
APPLICATIONS
1. Polyester and polyamide fabrics, spandex, lycra, nylon used in sports apparel and outdoor clothing
2. Plastic substrates like skis, snowboards, skateboards and surfboards
3. Mixed synthetic fabrics(used in sports apparel and outdoor clothing) with a minimum polyester content of 60%